We're not just showing auto and diesel technicians what's on the road ahead—we're putting them in the driver's seat.
Our cars and trucks are high-powered and high-tech—and they need an elite workforce to keep them running. That's why we're sending three aspiring auto and diesel technicians on a road trip that will give them an exclusive look at what's happening under the hood of their industry. They'll meet with professional technicians, hear candid stories of struggle and success, and of course, check out a ton of cool cars along the way. Ride along with the crew as they explore this rapidly accelerating field—and see if this turns out to be the spark that ignites their future.
ALEXANDRA
Age 18
From Marysville, WA
Alexandra has loved vehicles her whole life: growing up, her summer vacations revolved around taking off-road adventures on her family's Jeeps and quads. But it wasn't until she took a small engine repair class in high school that she realized she could get serious about a career as a technician. While she waits to start her technical training, she's working at her dad's accounting firm, where she often faces pressure to follow in his footsteps. But whenever she's stuck sitting in the office, she's dreaming about when she can next visit the local speedway, or take her Honda 300ex ATV out for a spin. Entering a male-dominated field, she knows she faces some rough terrain ahead; she hopes this trip will introduce her to trailblazing women who can give her the reassurance she needs to continue down her path.
MICHAEL
Age 18
From Clatskanie, OR
Michael was six years old when his dad finished his passion project: outfitting his 1988 Dodge Ramcharger with a 440 engine he'd built. Even at that young age, the feeling of looking in the rearview mirror and seeing burnout smoke made its impression—it transformed Michael into a gearhead for life. But growing up in a small town with a population of just 1,700 people, Michael has struggled to find a community of fellow car-lovers. That's why whenever he gets the chance, he heads to Portland, where he's active in the city's autocross scene. About to graduate from high school, and heading to school in Sacramento in the fall, Michael's excited to finally be surrounded by peers who share his passions. But first, he's ready to hit the road and see the opportunities that exist for technicians nationwide.
DYLAN
Age 19
From Huntersville, NC
Both his father and grandfather work as mechanics, so it's no stretch to say that working on cars is in Dylan's blood. But while his mentors were able to enter the field without degrees, Dylan knows that the industry has since become highly technical and crazy competitive—which is why he was the first in his family to leave Wyoming and pursue a higher education. Dylan is currently completing technician training in Mooresville, North Carolina (a motorsports industry hub that's been nicknamed "Race City, USA") but he's unsure of where his road will go next. His dream is to use his specialty in interiors and engines to "restore old cars and give them the life that they deserve," but first, he needs to see all the ways in which he can turn that vision into a reality.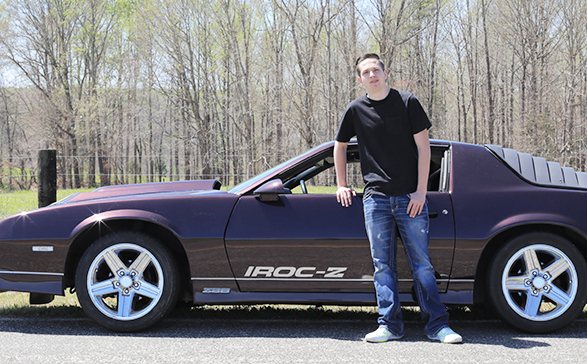 HOME SWEET HOME
HOPPER the RV
QUICK STATS
DOB............................2004
# OF ROADTRIPS..............3
MILES.......................35,982
STOPS & INTERVIEWS
Walt Logan
Operations Manager, Dig This Las Vegas
Rod Fuller
Vice President of Operations, Exotics Racing
Diamond Bar, CA
4/19/2017
Stephanie Martinez
Senior Coordinator, OEM & Product Development, SEMA Garage
Mike Spagnola
Vice President, OEM & Product Development, SEMA Garage
Arturo Herrera
Emissions Lab Technician, SEMA Garage
Sara Morosan
Sales Manager, LGE*CTS Motorsports
Los Angeles, CA
4/19/2017
Magnus Walker
Founder, Urban Outlaw Shop
Brian Darnall
Shop Manager, Hoonigan
Rancho Cucamonga, CA
4/20/2017
Joe Ray
Editor, Lowrider Magazine
Dennis McCarthy
Owner, Vehicle Effects
Henrik Hairapetian
Founder/CEO, World Famous 4x4
John Hennessey
Founder, Hennessey Performance Engineering
Darron Craddieth
Diesel Mechanic, Ryder
Rashad Thomas
Diesel Mechanic, Ryder
Heather Opp
Technician II, Ryder
Roger Penske
Founder & Chairman, Penske Corporation
Keola Santiago
Master Guild Technician, Audi
Bogi Lateiner
Founder/Owner, 180° Automotive/Bogi's Garage
STOPS & INTERVIEWS
Las Vegas, NV
4/17/2017
Walt Logan
Operations Manager, Dig This Las Vegas
Rod Fuller
Vice President of Operations, Exotics Racing
---
Diamond Bar, CA
4/19/2017
Stephanie Martinez
Senior Coordinator, OEM & Product Development, SEMA Garage
Mike Spagnola
Vice President, OEM & Product Development, SEMA Garage
Arturo Herrera
Emissions Lab Technician, SEMA Garage
Sara Morosan
Sales Manager, LGE*CTS Motorsports
---
Los Angeles, CA
4/19/2017
Magnus Walker
Founder, Urban Outlaw Shop
---
Long Beach, CA
4/20/2017
Brian Darnall
Shop Manager, Hoonigan
---
Rancho Cucamonga, CA
4/20/2017
Joe Ray
Editor, Lowrider Magazine
---
Sun Valley, CA
4/21/2017
Dennis McCarthy
Owner, Vehicle Effects
---
Burbank, CA
4/21/2017
Henrik Hairapetian
Founder/CEO, World Famous 4x4
---
Houston, TX
4/25/2017
John Hennessey
Founder, Hennessey Performance Engineering
Darron Craddieth
Diesel Mechanic, Ryder
Rashad Thomas
Diesel Mechanic, Ryder
---
Phoenix, AZ
4/29/2017
Heather Opp
Technician II, Ryder
Roger Penske
Founder & Chairman, Penske Corporation
Keola Santiago
Master Guild Technician, Audi
Bogi Lateiner
Founder/Owner, 180° Automotive/Bogi's Garage