About Roadtrip Nation Music
Roadtrip Nation is dedicated to supporting independent musicians, who are creating lives based on doing what they love.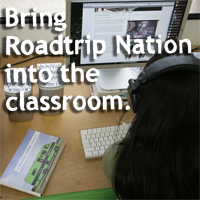 The Open Road of QPE
Kacy Wiggins aka quiet personal electronics (qpe) is a subtly profound composer whose reputation as a live performer and soulful soother of the frenetic New Yorker has earned him a solid following. His music takes off from instrumental hip-hop, st ...more
Roadtrip Nation Music Tweets
Love seeing the list of @RoadtripNation musicians that are playing @sxsw . Can't wait to get to Austin!
15 days ago
RT @RoadtripNation: Have you submitted your application to hit the road with us on our Design Roadtrip? Time is running out!
http://t.co/pX
…
26 days ago