About Roadtrip Nation Music
Roadtrip Nation is dedicated to supporting independent musicians, who are creating lives based on doing what they love.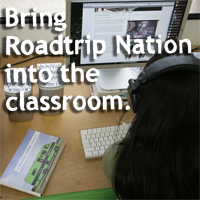 Roadtrip Nation Music Tweets
RT @RoadtripNation: "When you're on the bleeding edge of culture, and doing things that no one has done before, you're gonna get creamed."h…
2 days ago
RT @SethAndMay: Happy Friday! Happy Spring! Seth is playing solo acoustic with our dear friends Mike and Ruthy tonight in Grand...
http://t
…
6 days ago
RT @RoadtripNation: "Life is such a profound mystery...there's a certain point where you have to give up any illusion of control." - http:/…
6 days ago
RT @adriannakrikl: my new music tracks will be featured on @RoadtripNation season 10. it's awesome to be associated with such a great show!
8 days ago
RT @RoadtripNation: Culture Corner: Prepare to have your mind blown! Our editor Willie's video was a staff pick on Vimeo!
http://t.co/5VU2
…
9 days ago