About Roadtrip Nation Music
Roadtrip Nation is dedicated to supporting independent musicians, who are creating lives based on doing what they love.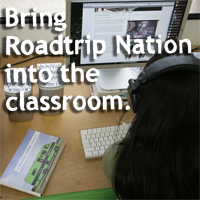 The Open Road of QPE
Kacy Wiggins aka quiet personal electronics (qpe) is a subtly profound composer whose reputation as a live performer and soulful soother of the frenetic New Yorker has earned him a solid following. His music takes off from instrumental hip-hop, st ...more
Roadtrip Nation Music Tweets
RT @RoadtripNation: "When you're on the bleeding edge of culture, and doing things that no one has done before, you're gonna get creamed."h…
12 hours ago
RT @SethAndMay: Happy Friday! Happy Spring! Seth is playing solo acoustic with our dear friends Mike and Ruthy tonight in Grand...
http://t
…
5 days ago
RT @RoadtripNation: "Life is such a profound mystery...there's a certain point where you have to give up any illusion of control." - http:/…
5 days ago
RT @adriannakrikl: my new music tracks will be featured on @RoadtripNation season 10. it's awesome to be associated with such a great show!
7 days ago
RT @RoadtripNation: Culture Corner: Prepare to have your mind blown! Our editor Willie's video was a staff pick on Vimeo!
http://t.co/5VU2
…
8 days ago