About Roadtrip Nation Music
Roadtrip Nation is dedicated to supporting independent musicians, who are creating lives based on doing what they love.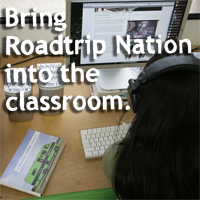 The Open Road of Xavier Rudd
A one-man-band/multi-instrumentalist who plays guitars, Yidaki (didgeridoos), Weissenborn slide guitars, stomp box, harmonica, and percussion, Rudd made his U.S. debut in 2004 with Solace. In the years since, his popularity and reputation have beg ...more
Roadtrip Nation Music Tweets
RT @RoadtripNation: "You learn so much more when things aren't easy...aren't fed to you, when things aren't perfect."– Jeff Adams
http://t.
…
2 days ago
RT @BryanBrews: Pick up your free tickets to the @RoadtripNation end of year party on Tuesday evening. We're pour'n our beers!
http://t.co/
…
8 days ago
RT @hellocaller: Hear one of our early recordings in Season 10, Episode 3 of #RoadtripNation on PBS! Stream the full episode here:
http://t
…
8 days ago
RT @TheGRAMMYMuseum: Join us for a live q&a on @JimiHendrix at 6PST!! Tweet your questions using hashtag #HendrixPBS and tag @JimiHendrix h…
42 days ago