About Roadtrip Nation Music
Roadtrip Nation is dedicated to supporting independent musicians, who are creating lives based on doing what they love.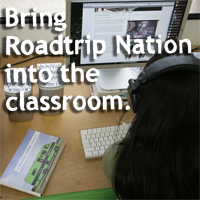 The Open Road of Robot Bomb Shelter
Robot Bomb Shelter, aka Jake Brower, is a controllerist and is taking "live electronic dance music" to a whole new level by creating his own original music on-the-fly. He blends together several types of dance music, including Elec ...more
Roadtrip Nation Music Tweets
We're making some changes! Follow us @roadtripnation and let's keep the tunes going!
138 days ago
RT @BillyShaddox: Roadtrip Nation on PBS will be using two of my songs this season!!!
140 days ago
Love seeing the list of @RoadtripNation musicians that are playing @sxsw . Can't wait to get to Austin!
158 days ago
RT @RoadtripNation: Have you submitted your application to hit the road with us on our Design Roadtrip? Time is running out!
http://t.co/pX
…
170 days ago