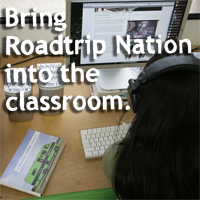 Roadtrip Nation Featured in Microsoft's Publicyte!
September 28, 2011
Mark Drapeau, editor-in-chief of Microsoft's Publicyte, came to the Roadtrip Nation HQ for a personal tour of our office space, our Green RVs, and, of course with that, the philosophy that drives what we do.
"Roadtrip Nation Education is a lot of things, but ultimately it is about having a real impact on the youth of America, which they've measured through both anecdotes and more recently through scientific studies. The education of today's young people goes far beyond schools – it's an economic issue, a national competitiveness issue, and even a national security issue."
Click here to read the full article.