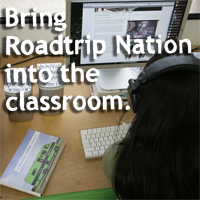 Brian McAllister
Founder / Outreach Director
Education, Founders, Outreach

What are you a champion at?


Well, not to be cheesy, but Mike and I really were National Champions (Division I 4a) in Water Polo at Pepperdine University in 1997. What a season...



One quote I use to block out Noise is...


"Distinction is Everything" Michael Jagger, JDK design firm, Burlington, VT



The easiest way to make me smile is....


driving a blue and green RV



What do you do for Roadtrip Nation now?


Fix motor-homes and share stories and experiences from the Open Road



Best conversation you've had while in a vehicle:


"What if we could create a movement of Roadtrippers that hit the road in search of defining their own roads in life - what if we could have Roadtripping be an element within education? What if we could put students on Roadtrips in other countries? What if Roadtrip Nation became what we do, and if it could endure long after us?



What is your favorite method of transportation?


Bike! I road one across the US after college.