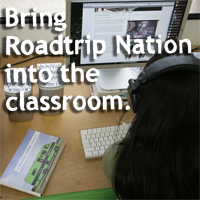 Jason Manion
Event Architect
Outreach

If you could only bring three things on a Roadtrip, what would they be?


A genie, a pillow case full of great books, a motor home loaded with candy.



Favorite song to dance to?


Mambo Number 5.



What are you champion at?


RV driving, naps, and championships.



What are you secretly afraid of?


Dolls. Not living up to my potential and scary porcelain dolls.




How did you come to work at Roadtrip Nation?


Fate, and a friend name Kassy Darling.



The easiest way to make me smile is...


Say to me, "Jason, I don't know what you're doing right now, but whatever it is, you're doing a great job. And hey, by the way ... you look great today!"