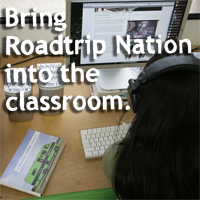 Willie Witte
Series Director
Video Production

Can you believe that I...
grew 12 inches while IN high school!! And I wasn't held back.

How are you different than you were four years ago?
I listen to my heart, and I try really hard to follow it. I've also surrounded myself with people who help me with that. As a result, I'm working a job I love and am very, very happy. Oh yeah, and I finally went through puberty.

How did you come to work at Roadtrip Nation?


Magic. Well, Craigslist ... Then some magic.



If there is something else you think is vitally important to write/say, feel free to here:


If you are reading this, then you are on Roadtrip Nation's website. EXPLORE IT. And don't stop. There is something incredible in here for everyone. I've worked here for two years, and I'm still constantly learning and growing from the content on this site.



Most embarrassing life moment?


Chicken fighting: A prestigious and highly popular recess game / proving ground at Stidwell Elementary School. Two opponents swing from the jungle gym and try to pull each other down with their legs. Championship match. Tensions were high. All eyes on me. In a blur, Jeremy Witt-Pitts (that's his real name) unintentionally pulled my sweatpants down to my ankles. I wasn't wearing underwear. You don't recover from things like that.



Your best/worst I got lost story?
My mom dropped me off with my bike. Pointed in the direction of my friend's house. Three blocks. Straight. That's it. What happened is a blur, but an hour later a family friend found me crying in the back of a grocery store.