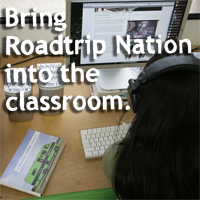 Christina Mitchell
Community & Press Relations
Outreach

Favorite time of the year at Roadtrip Nation?
Early summer, when the Roadtrips begin!

One quote I use to block the Noise is...
"Go confidently in the direction of your dreams." – Henry David Thoreau.

Favorite song to dance to?
I'm rather fond of an interpretive dance to "Forever Young."

What do you do for Roadtrip Nation now?


I spread the gospel of the Roadtrip through press and community engagement.



How are you different than you were four years ago?
I've figured out what I want to do with my life, and it feels amazing.

On my desk you'll find...
a plastic T-Rex and sour Jelly Belly jelly beans.