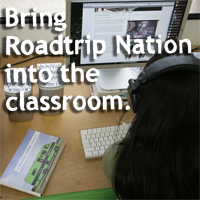 Molly Gazin
Educator Network Coordinator
Education

Your best/worst I got lost story?
Being separated from my friends while on the back of a motorcycle in Vietnam!

What do you do for Roadtrip Nation now?


Production Intern and Roadie!!!!



What are you secretly afraid of?
Being chased up stairs, ahhhhh!

The easiest way to make me smile is...


smile and I'll smile back :) or you can give me an avocado!



How did you come to work at Roadtrip Nation?


The lovely craigslist.com.



Favorite song to dance to?
Sexy Back – Justin Timberlake, babyyy.