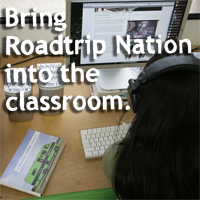 Alex Gomez
Director of Educational Videos
Video Production

Miles on your odometer?
25 years, 11 months, 27 days, 6 hours, and 34 minutes.

If I could interview anyone, it would be...
stand-up comedian, Gabriel Iglesias. He has overcome many obstacles similar to my own, and is on his way to becoming one of the most famous comedians of all time.

Can you believe that I...


Have never trick-or-treated?



How did you come to work at Roadtrip Nation?


During a time of confusion and doubt, I was introduced to the documentary series and immediately fell in love. After doing some research, I was blown away to find out that they were a local company and were actually in the process of looking for new production interns and the rest is history. So, I guess fate brought me to Roadtrip Nation.



One quote I use to block the Noise is...


"Jump and the net will appear" –Matthew Nolan.



How are you different than you were four years ago?
I've learned that fear is a good thing because it encourages change. Putting off that change because of fear only leads to lost time and forcing oneself to be content in a bubble of safety.