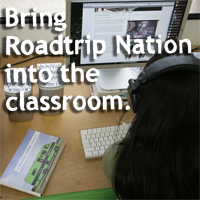 Kristen Vedder
Education Project Manager
Education

What movie could you watch on repeat for 24 hours?


The Sandlot, Love Actually, A Christmas Story (depends on what time of year it is).



One quote I use to block the Noise is...
"To each their own." Plain and simple.

How are you different than you were four years ago?
A little wiser. A little more independent.

What do you do for Roadtrip Nation now?


Education Logistics and Project Management



If you could only bring three things on a Roadtrip, what would they be?


Camera, cell phone, sunglasses



Miles on your odometer?


25.