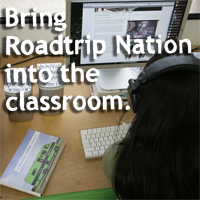 Hannah Johnson
Strategic Partnerships Manager
Outreach

On my desk you'll find...


A half-eaten breakfast burrito.



What movie could you watch on repeat for 24 hours?


The Sandlot.



If I could interview anyone, it would be...


Bill Nye the Science Guy.



Favorite song to dance to?


"Human After All" – Daft Punk.



One quote I use to block out Noise is...


"Be who you are and say what you feel because those who mind don't matter, and those who matter don't mind." - Dr. Seuss



How did you come to work at Roadtrip Nation?


I applied for the Green RV and was selected for the 2010 trip. A little over a year after that, I went on the Fall Tour and then was offered a BOMBTASTIC position.