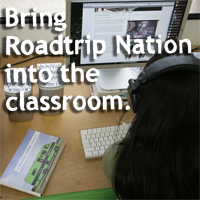 Bobby Lee
Web Project Manager & Photographer
Video Production, Web

If you could only bring three things on a Roadtrip, what would they be?
Cameras, a book, and a reusable water bottle.

One quote I use to block the Noise is...


Stop thinking, and end your problems. What difference between yes and no? What difference between success and failure? Must you value what others value, avoid what others avoid? How ridiculous! – from the Tao Te Ching.



If I could interview anyone, it would be...
my grandparents.

What are you a champion at?
Saying nothing.

What is your favorite place in the world and why?
Montana de Oro State Park, Los Osos, California. This is where I discovered that I love nature and photography.

Your best/worst I got lost story?


On a backpacking trip in the Sierras, I got lost with a friend on our way back from a day hike. We were off trail and hiking down to our camp in the valley and made it halfway before it got completely dark. The hike turned into a labyrinth of dense brush and rocks, as we couldn't see very far with our flashlights. Eventually we made it back, and I remember feeling very alive afterwards.