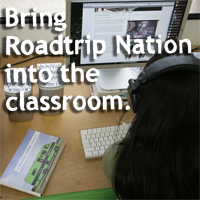 Sam Wada
Editor / Motion Graphics Artist
Video Production

Best conversation you've had while in a vehicle:


My dad and I once had a very deep conversation about The Adventures of Buckaroo Banzai Across The 8th Dimension while driving. Theoretical physics conversations with my dad are always the best.



If I could interview anyone it would be...


Michael Kahn



One quote I use to block out Noise is...


"Everybody is a genius. But if you judge a fish by its ability to climb a tree, it will live its whole life believing that it is stupid." Albert Einstein



I aspire to...


never stop trying to be a better person.



What makes you awesome?


The fact that I'm half Japanese. I'm just ninja enough to be cool, but not so ninja that I'm feared.



What's your favorite method of transportation?


I wish I could ride on a giant eagle like Frodo; it seems like the most expedient way of getting around.