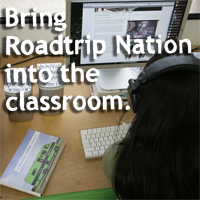 Sam Wada
Editor / Motion Graphics Artist
Video Production

Can you believe that I...


when I was a kid, I acted in a kung-fu movie.



What's your favorite method of transportation?


I wish I could ride on a giant eagle like Frodo; it seems like the most expedient way of getting around.



What's your favorite driving music?


Indie Folk/Rock. Basically, The Decemberists mixed with Death Cab for Cutie. Add in Ben Folds and I could drive anywhere.



How did you come to work at Roadtrip Nation?


I attend Vanguard University and several graduates work at Roadtrip. I got an email about the internship and decided to apply. The main reason I really wanted to work at Roadtrip is because after checking out the website, I got really inspired about life.



I aspire to...


never stop trying to be a better person.



Best conversation you've had while in a vehicle:


My dad and I once had a very deep conversation about The Adventures of Buckaroo Banzai Across The 8th Dimension while driving. Theoretical physics conversations with my dad are always the best.