Working at Roadtrip Nation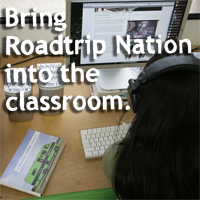 Working at Roadtrip Nation
Being a part of the Roadtrip Nation Movement from the inside is an incredible opportunity to cultivate your talents and passions with a team of remarkable individuals. Working here is a truly unique experience because the motivation behind every employee stems not from the desire to be noticed or promoted by a boss, nor the potential to make a lot of money for yourself, but because you wholeheartedly believe in what you are working for.
While everyone at Roadtrip Nation has official job titles, we all tend to wear a multitude of hats to fulfill our mission and spread the Movement, meaning no two days are alike, and any task that needs to get done is yours for the doing. Learning new things and discovering new abilities takes place in the office as much as on the road.
If the notion of working for a company that desires to inspire and actively asks for your opinion on matters as large as how to continue to evolve the Movement and as small as the best way to recycle our recyclables, send us an email at support@roadtripnation.com.
Current Opportunities
PR/Marketing Coordinator
Status: Open
Posted on: March 25, 2014
The PR/Marketing Coordinator is responsible for supporting and coordinating the outreach for both the company and its sponsors through traditional and non-traditional media channels. This role will complement our comprehensive social media strategy and collaborate with other departments to extend our brand awareness.
Post-Production Internship
Status: Open
Posted on: March 03, 2014
Roadtrip Nation is currently searching for a Post-Production Intern!
Keep me in the loop
Don't see the career for you? Enter your email address below and we'll notify you of each new opportunity.
Meet the Staff
Music Supervisor & Editor