Working at Roadtrip Nation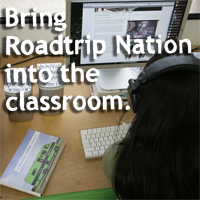 Freelance Graphic Designer
Status: Closed
Start Date:
Roadtrip Nation seeks an energetic, creative, and detail-orientated freelance designer who is looking for an exciting place to create meaningful work. This is a temporary, part-time contract hire, depending on schedule/project completion. Designer must work a minimum of 20 hours/week, preferably in office at our Costa Mesa HQ. Applicants must be able to start immediately.
Responsibilities and Attributes:
• Flexibility and the ability to handle constructive criticism are essential
• Turn around projects quickly and accurately
• Meet deadlines and work under pressure
• Ability to work on multiple projects simultaneously and adjust priorities to meet evolving deadlines
• Work well in a team setting
• Proactive approach to problem-solving and project management
• Strong verbal and written communication skills
• Strong organizational skills
• Detail-oriented
• Deliver press-ready files to printer
• Maintain an organized filing system
• Work with Roadtrip Nation's Creative Director and Design Manager to define and execute look and feel of published content
Experience Requirements:
• Bachelor's degree in graphic design or equivalent work experience
• Minimum three years related experience
• Thorough knowledge of Photoshop, Illustrator, and InDesign
• Proficiency in Macintosh OSX environment
• Fully understand the pre-press production process
• A portfolio that demonstrates creativity and problem solving
• Experience using traditional lettering or drawing skills for digital platforms
Before contacting us, please visit our website roadtripnation.com to gain understanding of our Movement. Our hires are typically those who can articulate how and in ways they connect with our content, so please have a thorough understanding of who we are and what we do before applying.
If you are creative, like to work hard for something that matters, and read every single word in this job posting and thought, "Hey that's me!" please apply with the info mentioned below.
Qualified applicants: please send resume, work samples (portfolio link preferred), and freelance rate to Monique at monique@roadtripnation.com.
About Roadtrip Nation – Our Culture
Located in Costa Mesa, Calif., a passerby wouldn't be able to miss Roadtrip Nation's HQ with one of our big Green RVs parked out front (if it's not out on one of its many Roadtrips). We're a team of hardworking, dedicated, creative, individuals who love what we do here. On a typical day, you can find us in our conference room in the midst of a collaborative creative brainstorm or our eyes glued to FinalCut, Illustrator, and InDesign. Although we work hard, there's always time for a little fun. Find us battling one another in a vehement game of ping-pong or taking a break out at the beach during lunchtime. We're a quirky (and kind of a geeky) crew who runs on coffee and often gets excited when a new product launches with Apple or Google. All of us share a deep-rooted passion and pride for our work, and we feed off one another's energy, ideas, and opinions. If you think you'd fit in well with us, we'd love to meet you.
Keep me in the loop
Don't see the career for you? Enter your email address below and we´ll notify you of each new opportunity.
Meet the Staff
Editor / Intern Coordinator