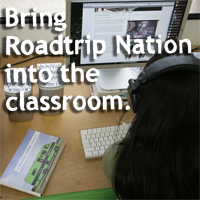 Before we embarked on our first Roadtrip, we were feeling The Noise and pressure around us to conform. Our Manifesto keeps us true to the original principles that started us on this journey.
Imagine telling people you were going to travel across the country in a bright green RV to learn how people defined their own lives. You can imagine the reactions – but we knew we needed to find our Open Road. Here's our story.
Extending the Movement into education, we started a nonprofit, RoadtripNation.org. Our curriculum empowers students to get out into their communities and connect what they learn to their real world.
The Movement
Roadtrip Nation empowers you to define your own road in life instead of traveling down someone else's.
We encourage you to engage in self-construction, rather than mass production. We encourage you to be proactive and actively participate in defining your future by hitting the road and learning from Leaders who have resisted The Noise of conformity and stayed true to themselves.
Our philosophy is that when we listen to ourselves and are honest about whom we are, and what we love, we are able to seek our own path and contribute to the world with our unique talents.
We believe that by helping others discover their own paths, there will be a significant positive change in the world—the world needs people in tune with who they are and what they care about.
Living a life fueled by authenticity and passion allows people the ability to offer their creativity, ingenuity, and enthusiasm toward their goals. We hope that this, in turn, will build a better local, national, and global community.
The Roadtrip Nation Movement exists to support, empower, and encourage individuals who want to define their own roads in life.